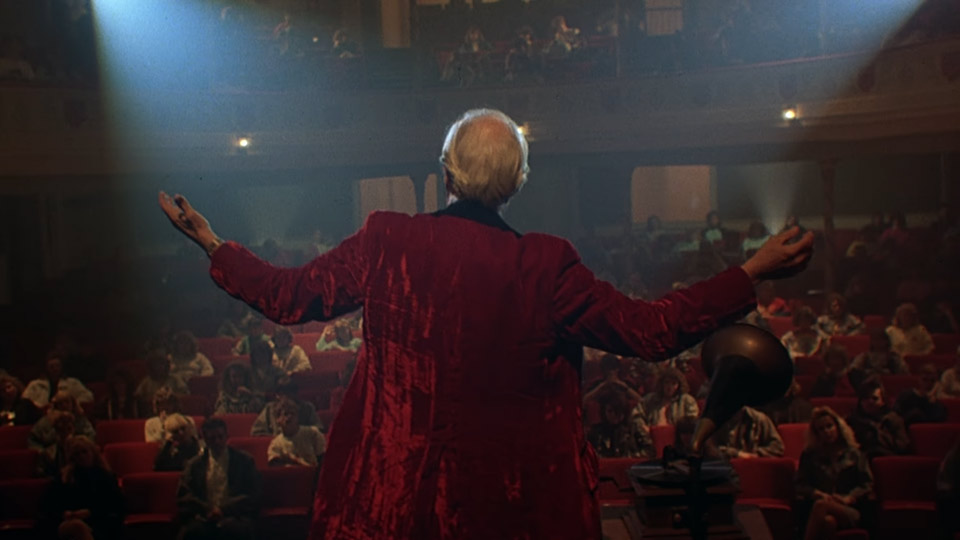 During the opening credits, Coleman (Jason Robards) dreams that he's performing onstage, singing "Dream a Little Dream"—or at least lip synching to it.
An interesting note about this shot, it's a long take, a continuous (or appears to be) shot which begins with Coleman before an empty theater, but when the camera comes back around, the theater is packed. People must have had to lie on the floor and pop up, or, all rush in while the camera was not on them. Neat shot, too bad it probably doesn't get much notice. Well done, Marc Rocco.
This is filmed within Thalian Hall, which has a long history in Wilmington. I personally attended the Under the Dome premiere there, which Stephen King was hosting. I sat near Josh Carter, who played a fireman named Rusty, who played Linda's (Natalie Martinez) boyfriend trapped outside the dome. It's a venue for live performances, special events, and has movie nights as well.
Across Princess Street is the New Hanover County Courthouse which the exterior was used in FOX's Sleepy Hollow as the Sleepy Hollow Police Station.